Ready for take off: Ast Transport Branding gives Stobart Aviation Services' new airport vehicles a vibrant livery
Ast Transport Branding has been commissioned by Stobart Aviation Services to wrap all of their new ground support equipment (GSE) for their operations at London Southend airport and partnership with Easyjet at Stansted airport.
GSE includes vehicles such as pushback tractors for moving aircraft, electric baggage tugs and belt loaders, passenger stairs, an air start unit, and two power units, which provide power to an aircraft while it is grounded to save the usage of aviation fuel.
Airports and airlines will often lease GSE from other companies, however Stobart Aviation Services has decided to invest in its own GSE for Southend and Stansted airports. The vehicles were produced by firms in France, Germany, Ireland and Wales, before each manufacturer sent the specifications to Ast so that a completely bespoke vehicle wrap could be designed.
The blue chevron design was created by Ast following Stobart's specifications that the livery should match the Stobart Air logo. Incorporated into the design are large areas of light reflective vinyl to comply with safety regulations for airport vehicles.
Further to their own operations at Southend, Stobart won the contract to supply GSE to Easyjet at Stansted airport, leading Ast to design a number of wraps which incorporated the Easyjet logo.
The vehicle wraps for the pushback tractors also include a name for each vehicle, following the Stobart tradition of giving their trucks female names. The names were inspired by Stobart's female employees as well as the wives and fiancees of other staff members.
Dale Foster, head of vehicle sales at the Stobart Group, enthused about the service provided by Ast Transport Branding: "They're very slick! You give them your brief or idea and they'll get back to you with two or three designs to look over within a couple of days."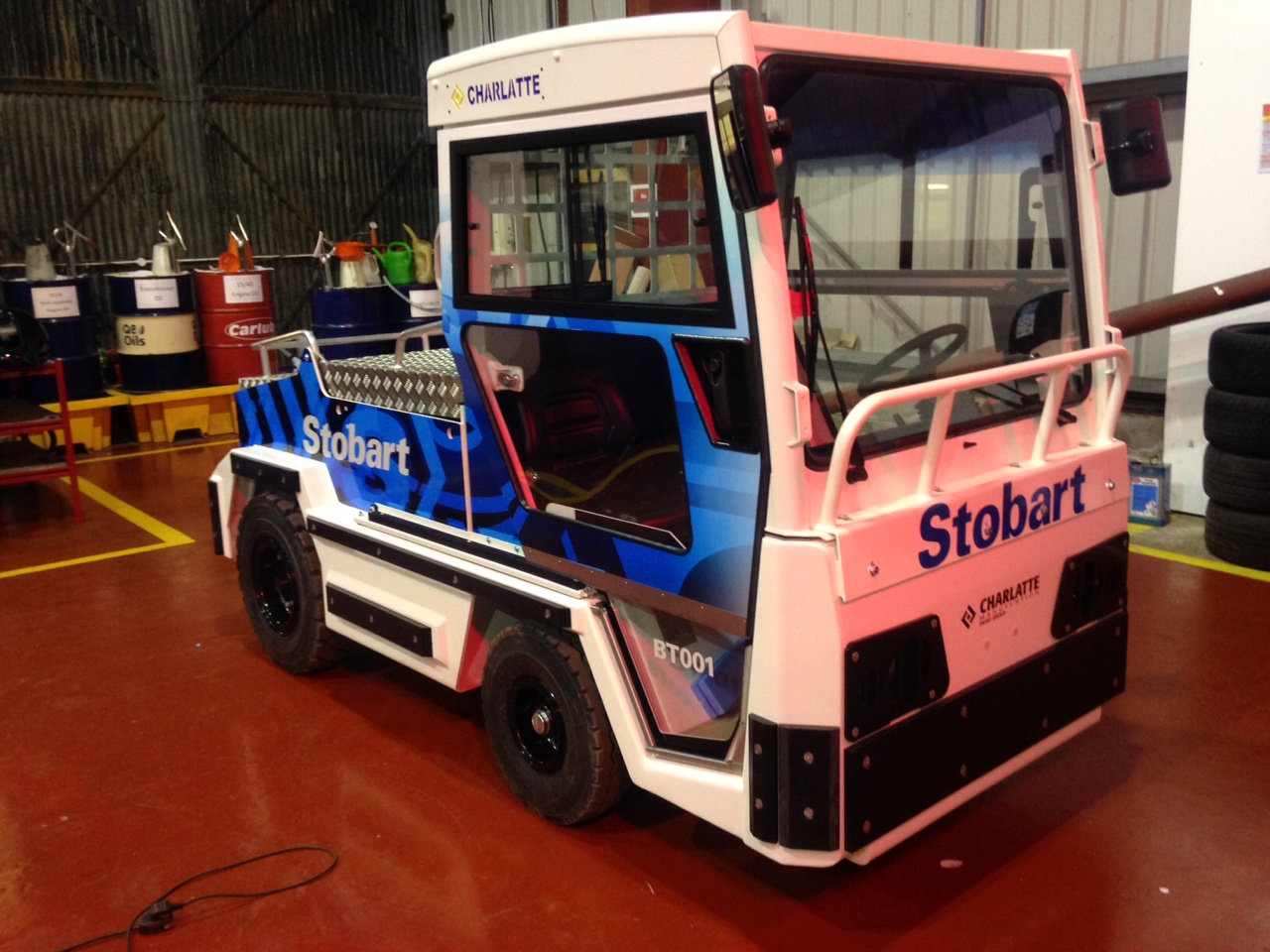 Ast Transport Branding has a long-standing relationship with the Stobart Group, providing them with livery for their extensive fleet of trucks. Key Account Manager Rick Wilson said of the project "Having been involved with wrapping Stobart vehicles myself for a number of years, working on these completely bespoke wraps was an exciting new challenge. We're very happy with the results and can't wait to see them on the runway."
< All news