Ast Transport Branding cooks up 12 new van designs for Caterite
In February we shared the story of Cumbrian-based food industry wholesaler Caterite and our innovative collaboration on livery graphics. Caterite's fleet has been the talk of the industry with its bold designs making a mouth-watering statement on the country's roads.

The project was so successful that Caterite was nominated for Livery of the Year in the prestigious Motor Transport Awards, sponsored by Pirelli. Hannah and her team attended the awards in London on Wednesday 4 July. "There were five of us that had been short-listed and the others were nationwide companies - Vision Express, Hermes, Palletline," explains Hannah. "It was a huge achievement to be nominated."
While trucking company Howard Tenens scooped the top prize, Caterite was praised by the judges for investment and pride in the new design. One judge commented on the "great and striking update" to its branding and another described the livery as "a creative expression of the company's services, executed well in the design."
Since then, Caterite has expanded its fleet of Mercedes vans, so they asked us to help them create 12 new vehicle wraps. The latest artwork on Caterite's fleet includes liveries dedicated to sizzling steaks, delicious Asian cuisine, chopped fresh vegetables, colourful citrus fruits, and scrumptious cakes and macaroons.
The fleet expansion coincides with another major milestone for the company. In 2017 Caterite took over local company James' Fruit and Vegetables and this year have invested over £250,000 transforming the Penrith site into Cumbria's new state-of-the-art fruit and vegetable preparation centre, Caterprep.
This exciting new concept in the Caterite fold produces over 200 prepared food lines to help busy chefs save time and money in the kitchen, without compromising on quality and freshness.
In a happy coincidence, Caterprep is located next door to Ast Signs in Penrith! We collaborated again to create a large sign featuring the new Caterprep logo, displayed proudly on the outside entrance to the new facility.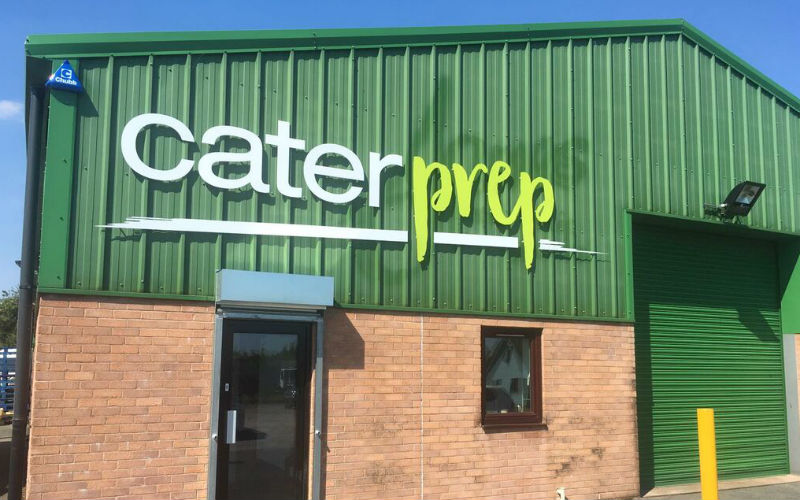 And in a hat-trick of successes for Caterite, the company has also expanded its head offices at Embleton, near Cockermouth. The office expansion creates more room for Caterite's growing team of more than 150 local people – a quarter of whom have been employed by the company for more than 10 years.  
Ast helped Caterite mark this milestone with a new raised lettering sign leading into the new reception area, and we're also working on window graphics and wall designs which will be installed later in the year.
Hannah and the Caterite team always enjoy working with our team. She said: "Ast are brilliant, really helpful. We like to keep it local!"
< All news